Why Seniors Need Professional Help Transferring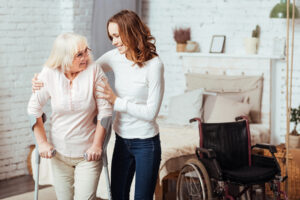 After an injury or a medical event like a heart attack or a stroke your senior parent may need help safely getting in and out of bed or getting around the house. Transferring, or being able to move from one location to the next, is one of the primary activities of daily living for seniors. Often family caregivers can help seniors with their activities of daily living.
But transferring is one activity of daily living that is best left to the professionals. Personal care at home is designed for seniors who have challenges that make the activities of daily living difficult for them. The caregivers who provide personal care at home for seniors have training and experience that allows them to help seniors get around safely without injuring themselves or the care provider. If you're trying to help your senior loved one transfer you could get hurt or your could accidentally hurt your senior loved one. Care providers who provide specialized personal care have been trained to work with seniors of all shapes and sizes and who have all different types of medical problems. They can help seniors:
Get In And Out Bed
Seniors who have arthritis, paralysis, or other conditions that make movement difficult have a very big risk of falling when they get in or out of bed. Especially if they try to get up in the middle of the night to get a drink or use the bathroom. A professional caregiver that provides personal care at home can safely assist your senior parent in getting out of bed in the morning or getting into bed at night so that they don't fall and hurt themselves.
Get Up And Down Stairs
Stairs are also high risk for seniors who aren't getting around as well as they used to. And seniors that use a cane or a walker can have a lot of trouble safely maneuvering up and down stairs with a cane or walker. A care provider can safely assist seniors up and down the stairs even if they are using a cane or a walker so that you don't have to worry that your senior loved one will fall on the stairs and seriously injure themselves.
Get To And From The Bathroom
Seniors who need help getting to and from the bathroom to use the toilet may rush to get to the bathroom and fall and get hurt if they aren't careful. This happens often when seniors have trouble getting up from a chair or the couch and they are in a hurry to make it to the bathroom. An experienced care provider can help your senior loved one safely get up from a seated position and get to the bathroom when they need to go.
Get Into And Out Of The Tub Or Shower
The most dangerous activity for a senior at home is getting into and out of the tub or shower. The best way to prevent falls in the bathroom is to have a care provider trained in helping seniors safely transfer to the shower and out again.
If you or an aging loved-one is considering Personal Care at Home in Wentzville, MO please contact the caring staff at Autumn Home Care, LLC today at 636-448-9347.
Latest posts by Kimberly Burdo
(see all)