Get Mom Out on the Dance Floor–and Expect Good Results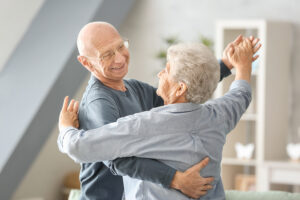 Many members of the so-called silent generation grew up in a dance era. They know what a "dance card" is. Some of them danced their way to victory in Europe.
If one or both of your parents likes to dance, you might want to move heaven and earth to make sure they get opportunities to do so. Because science is finding that dance, in many different forms, has a myriad of health benefits.
And here's the even better news. To people who enjoy dancing, dance feels nothing like exercise.
Studied health results
Dancing is good for both physical and mental health. The following is by no means a complete list of benefits:
Improved balance. Dancing involves weight shifting, movement of arms and legs simultaneously, and pushing and pulling, and those movements are the fundamentals of balance exercises.
Improved flexibility. Dancing generally involves quick foot movements, turns, and twists that are great for improving and maintaining flexibility.
Improved mental outlook. More research is needed, but preliminary studies show that dancing is one of several exercises that improves mood and staves off depression. To put that another way: you rarely see anyone frowning on the dance floor.
Improved muscle strength. Dancing uses more muscles than walking or weight lifting, so it's moderately good for strength development, particularly for individuals that have not been exercising regularly.
Improved heart function. Any aerobic exercise will get the heart pumping. Dancing, with its starts and stops, is particularly aerobic.
Choreographed dancing may be the best
All dancing offers aerobic benefits to the heart and circulation as well as improved balance and flexibility. Whether mom and dad do the foxtrot, zumba, or just freestyle around the living room to rock and roll, they will reap those benefits. But there's a distinct advantage to more complex dances.
One of the most interesting studies of dance and aging suggests that choreographed dance might be the best dance of all for senior health. Specifically, one study indicates that choreographed dancing can improve "mild cognitive impairment" and prevent it from turning into dementia.
How does choreography differ from other dancing? A quick answer is that choreographed dancing is more planned out and involves a variety of precise movements, arranged in a pattern.
So, if one sticks to the box step, one is definitely dancing. But if one adds some turns and swings in a pre-arranged order, one is doing choreographed dancing. Many of our silent generation already know some smooth moves. For the rest of us, there are dance classes.
Maybe you don't have time to take mom or dad to dance classes, nor do you have time to practice with them and make sure they're learning on schedule. It might be a good time to consider elder care. Elder care aids can help your parents keep track of their dance opportunities and provide transportation to classes and dance events.  
In conclusion, dancing has multiple physical and mental benefits at every age. But dancing as a form of exercise is especially valuable to people over 65. If mom shows an interest in dancing or learning to dance, that should definitely be encouraged.  
If you or an aging loved-one is considering Elder Care in Wentzville, MO please contact the caring staff at Autumn Home Care, LLC today at 636-448-9347. 
Sources
https://www.ncbi.nlm.nih.gov/pmc/articles/PMC5491389/
https://www.ncbi.nlm.nih.gov/pmc/articles/PMC7029368/
https://consumer.healthday.com/fitness-information-14/dancing-health-news-246/dance-your-way-to-better-health-747602.html
https://www.encyclopedia.com/humanities/culture-magazines/choreographed-dancing
Latest posts by Kimberly Burdo
(see all)