Pet Ownership: How Can It Benefit Your Elderly Loved One?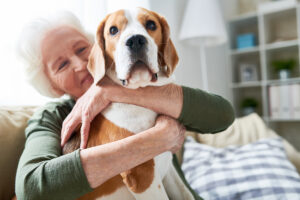 Pets have long been known as members of the family. They can bring a smile to someone's face if they are feeling down. They can play with their owners. If your elderly loved one needs a companion, a pet might be the best solution. Sometimes elderly adults will connect better with a pet than another human being. There are other health benefits for elderly adults when they have a pet, as well.
Reduced Risk of Heart Disease 
The American Heart Association states that having a pet can help to lower one's risk of having heart disease. There are many different reasons for this. For one thing, people who own a dog can take them for walks. This is considered physical activity and it is great for heart health. In addition, walking with a dog helps to reduce stress levels. If your elderly loved one needs to lower their risk of having heart disease, a pet (dog specifically) could help them to do that.
Companionship 
Are you and your loved one's home care providers around for them a lot? That is great if you are. However, there are probably times when someone can't be there with your elderly loved one. If your elderly loved one needs more companionship, a pet could be a great option. Cats and dogs make for great companions for elderly adults. Talk to your loved one to see if they would like a pet. Maybe they could even help you pick one out.  
Socialization 
Owning a dog could also help your elderly loved one to socialize more, too. This is because they can take their dog on a walk with a neighbor who also walks their dog. Doing this together can help your loved one bond with their neighbor. If there is a dog park in the area, your elderly loved one could take their dog to the park and socialize with others who are there, as well. Socialization is great for elderly adults. It helps keep them from feeling alone.
Reduced Anxiety 
Owning a pet could also help your elderly loved one to have less anxiety. There are many elderly adults who suffer from anxiety. Sometimes it is a debilitating condition. However, research has shown that owning a pet could help to reduce anxiety. Just being around someone that loves you unconditionally can help to ease anxiety. A pet would love your elderly loved one unconditionally. In addition, petting a dog or cat can help to lower anxiety.
These are some of the ways that owning a pet can help your elderly loved one. Talk to them today to see if they would like to get a pet.
If you or an aging loved-one is considering home care in O'Fallon, MO please contact the caring staff at Autumn Home Care, LLC today at 636-448-9347.
Sources
https://www.ncbi.nlm.nih.gov/pmc/articles/PMC5693989/
https://www.helpguide.org/articles/mental-health/mood-boosting-power-of-dogs.htm
https://newsinhealth.nih.gov/2018/02/power-pets
Latest posts by Kimberly Burdo
(see all)