Learn to Disconnect from Your Family Caregiver Responsibilities Every Once in a While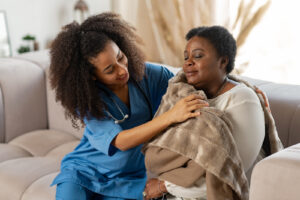 How long have you been supporting this aging senior in your life? Perhaps you never considered yourself a caregiver before, but guess what? If you have been looking after them, stopping by the help with certain things around the house regularly, taking them to doctors' appointments or to the stores regularly, then you are considered a caregiver, at least to some degree. 
It is certainly a noble act, but no matter your relation to the senior, it isn't your responsibility. Even if this is your spouse, mother or father, or a sibling, for example, there is no moral or legal obligation to give up your life, your dreams, your career, or even time with your own growing children to do it.
Yet, nearly 45 million Americans are considered family caregivers right now. And the bulk of them are feeling the effects of stress in every aspect of their lives. 
Are you feeling that stress, too? 
You probably are. Sometimes we don't notice stress sneak up on us, but it happens all the time. One day we look out a window or stare at the seemingly endless river of taillights stretching out before us in morning rush hour traffic and our chest tightens. A pain in our jaw wakes us up to the fact that we were grinding our teeth. Or we drag through the day because we just couldn't get a decent, restful night's sleep. 
That stress isn't going away. No matter how much you try to ignore it, there will always been stress ripping through your life.
You can still take charge, though. It's not too late to understand how to step back and disconnect from the things causing all this stress.
Focus on your needs right now. 
Many of those family caregivers immediately come back with something to the effect of, "But if I don't… who will?"
It's a fair argument, if you don't know anything about home care. A home care agency is a great idea that could help you find the perfect support for your elderly loved one. And you.
When you need to disconnect from these caregiving responsibilities -even if for only a brief time- rely on home care. An aide could step in and support the senior while you focus on reclaiming the vital parts of your life you may have given up along the way.
By doing so, you will feel refreshed and recharged. Who knows, you might just realize what growing numbers of family caregivers are, too: that home care can alleviate a ton of stress from your life, leaving you stronger, more alert, and more filled with life again. 
If you or an aging loved-one is considering a Caregiver in Webster Groves, MO please contact the caring staff at Autumn Home Care, LLC today at 636-448-9347. 
Latest posts by Kimberly Burdo
(see all)