Helping Your Elderly Loved One Through Recovery After a Surgery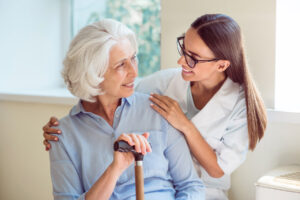 There are times that an elderly person needs to have surgery. However, sometimes the recovery can be a stressful, painful, and long process. This is why it is so important for them to prepare their mind for the road ahead. If you are looking for ways to help your elderly loved one through recovery after surgery, here are some tips that can make their recovery time easier.
Making Sure Arrangements Are Made 
Going through any type of surgery can be stressful. It is common to feel anxious and nervous before surgery. Thinking about recovery can also cause anxiety and stress. This is why it is essential for your loved one to know what is going to happen during and after surgery. You should also talk to them about their recovery. Some things to discuss with your loved one include the following:
Talk about how sore they will be after having surgery and during recovery
Make sure they have a list of instructions so they know exactly what they need to do during recovery
Go over any details the doctor discussed with them
Make them a list of contacts and talk to them about it so they can get help if they need it
Another important thing you should do is to check if their home is a safe environment for them during recovery. For instance, they might need grab bars, a walker, nonstick mats, or other safety equipment.
Support is Needed 
Support is the best way to help an elderly loved one through recovery after surgery. Family and friends might be able to help you watch over your elderly loved one. Remember, the more support the better. Another form of support that you can give to your elderly love one is to hire caregivers. Perhaps, your loved one already has caregivers who come to help them on a regular basis. If so, you could speak to them about additional support during their recovery.
Help to Prevent Infections 
Most research shows that not many patients will experience an infection after surgery. However, some data has shown that about 1 to 3 out of every 100 people will have to deal with getting an infection following surgery. If you are worried that your loved one has an infection, some symptoms to look for include the following:
Fever
Liquid pooling under the skin around the surgical area
Research also shows that people who smoke are more at risk of getting an infection. It is important to make sure your elderly loved one knows that they could possibly get an infection. They should speak with their caregivers or a loved one if symptoms arise.  
Conclusion 
Going through surgery can be stressful. It can cause anxiety. Recovery after surgery can be just as stressful. However, you can help your elderly loved one through recovery after surgery by using the tips you read here today.  
If you or an aging loved-one is considering a Caregiver in Chesterfield, MO please contact the caring staff at Autumn Home Care, LLC today at 636-448-9347. 
Sources
https://pubmed.ncbi.nlm.nih.gov/24811058/
https://www.ncbi.nlm.nih.gov/pmc/articles/PMC5847857/
Latest posts by Kimberly Burdo
(see all)