Five Common Questions about Hospice Care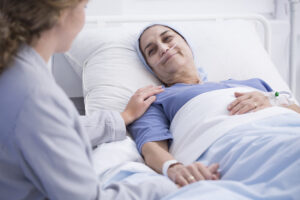 New forms of treatment can be scary, especially when you're not sure what to expect and what those treatments can do for someone that you love. When you can get your questions about hospice care answered, that helps you and your elderly family member to feel more comfortable with making that decision when the time does come for that to happen. Here are some of the basics about hospice and how it can help your senior.
What Is Hospice Care?
Hospice is a specific type of care designed for people who are near the end of their time with a terminal illness. People typically opt for hospice when the treatments that they've been trying are no longer working for them or are giving them side effects that are too much. Hospice focuses on keeping your family member as comfortable as possible, rather than on trying to cure her condition.
When Does Hospice Start?
Your senior needs to be certified for hospice by her doctor. This typically happens once her doctor determines that your elderly family member has six months, sometimes less, left to live. Predicting the end of someone's life isn't an exact thing, of course, so your elderly family member can be re-certified for hospice once that six-month timeframe passes.
When Is it Time to Choose Hospice?
The easiest answer for when to choose hospice can involve the timeframe her doctors give your senior. But other signs can include that your elderly family member no longer wants to choose the curative treatments that she has been undergoing. Or she might have realized that those treatments are no longer working for her, and then decide to make the change to hospice care. Talk with her doctors if hospice is something that your elderly family member is considering.
How Long Can Your Senior Be in Hospice?
There isn't a set timeframe for hospice care. There are guidelines around certification that are related to how long your senior's doctors expect she will live. That recommendation starts at six months or fewer and your elderly family member may have more or less time than that in actuality. As long as she continues to need hospice and her doctor is able to certify her to receive it, your senior can continue to receive hospice care.
What Happens if She Gets Better?
But what happens if your elderly family member starts to get better when she's in hospice care? There are a surprising number of people who start to feel a lot better overall after some time in hospice. That tends to occur because curative treatments have stopped and more attention is being paid to quality of life overall. Your family member doesn't have to worry that feeling better disqualifies her for hospice services.
The primary goal of hospice is always to keep your elderly family member as comfortable as possible. There are a variety of different ways that can be accomplished, and your senior's care plan is customizable according to her specific needs and health concerns.
If you or an aging loved-one is considering Hospice Care in O'Fallon, MO please contact the caring staff at Autumn Home Care, LLC today at 636-448-9347.
Latest posts by Kimberly Burdo
(see all)