Denture Care Tips For Seniors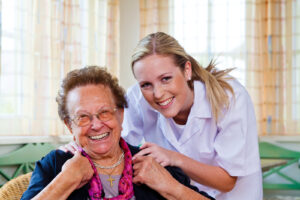 According to one study more than half of all seniors wear at least a partial denture to replace missing teeth. Good dentures that fit well can be expensive and difficult to get, so seniors that wear dentures need to take care of them properly. Taking care of dentures the right way will also help seniors avoid developing gum disease and other oral health problems. Good quality dentures should last anywhere from five to ten years, but how seniors take care of their dentures will impact how long they last.
In-home care can help seniors with their oral health and help them take proper care of their dentures. With in-home care seniors can also get the help they need to prepare healthy meals full of fresh vegetables which will help them prevent gum disease. Some of the things that seniors can do to take care of their dentures so that they will last longer are:
Take Them Out Every Day
Seniors should not wear their dentures around the clock. In fact, most dentists recommend that seniors take out their dentures for a minimum of four hours each day. Most of the seniors who wear dentures remove them at night while they sleep. This gives them time to soak and clean their dentures properly and it gives their mouth and gums a break from having the dentures in. Seniors don't have to remove their dentures at night but it just makes sense for seniors to wear their dentures all day and then remove them at night when they are sleeping.
Clean Them Twice A Day
Just like natural teeth dentures should be cleaned twice a day. Your senior parent should clean their dentures by soaking them in a cleaner that is designed to kill bacteria and safely clean dentures. Your senior parent can also brush their dentures the way that they would normally brush natural teeth. But, when brushing dentures it's important to not use toothpaste. Toothpaste could damage dentures. Just brushing is enough to clean dentures, there's no toothpaste needed.
Take Them Out The Right Way
Before seniors remove their dentures they should fill the sink with warm water and then drop the dentures in after they remove them from their mouth. Filling the sink with water first will cushion the dentures so that they don't get chipped, cracked, or damaged by falling into the hard sink. This step isn't always necessary, but it's a good way to protect the dentures from damage since they are usually fairly expensive.
Pay Attention To The Fit
Dentures can cause gum disease and irritations because they sit right on the gum tissue. If your senior loved one starts complaining about sore gums or starts getting irritation, bleeding, or redness in the gums there could be a problem with the way that their dentures are fitting. It's important for your senior parent to see their dentist to make sure that the dentures are still fitting correctly in the mouth if they are causing any pain or irritation.
If you or an aging loved-one is considering In-Home Care in O'Fallon, MO please contact the caring staff at Autumn Home Care, LLC today at 636-448-9347.
Source:
Latest posts by Kimberly Burdo
(see all)