Learn More About What Conversations to Have with Your Elderly Loved One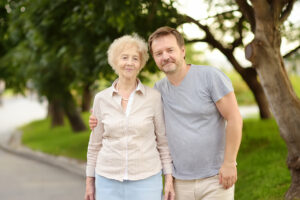 If your loved one is older now, it may be time to have certain conversations with them. At some point, they might not be able to make decisions for themselves. It is best to discuss their wants and needs sooner rather than later. You can learn more about what conversations to have with your elderly loved one today.
Types of Care
You should talk to your elderly loved one about the types of care they will want. When your elderly loved one needs help with errands, daily activities, and other things, who do they want by their side? They might feel uncomfortable having a family member help with these things. If that is the case, your loved one might want you to hire elder care providers to offer the help they need.
Taking Care of Finances
You should also talk to your elderly loved one about their finances. What is going to happen when they can't balance their checkbook or manage their bills? Who do they want to take over? It is important that this is set up ahead of time. That way, when the time comes for them to need help with finances, the person who will be in charge is prepared.
Organizing Documents
You and your elderly loved one should also talk about where their important documents are at. In addition, if they have a life insurance company or other important information, someone needs the phone numbers and addresses for these places.
Making Decisions for Health Care
Who does your elderly loved one want to be in charge of their heatlh care? If your elderly loved one is injured or in a position where they can't make their own health care decisions, who will make them? This is a conversation that you should have with your elderly loved one sooner rather than later. It is best to have this planned out before something happens.
Conclusion
These are some of the things that you should talk to your elderly loved one about. For most of these things, it is best to have the conversations sooner rather than later. If plans are made before help is needed, things will be much less chaotic. Keep in mind that if plans aren't made, generally the next of kin is allowed to make the decisions. If that is you and extra help is needed, don't hesitate to reach out to elder care providers.  
If you or an aging loved-one is considering Elder Care in Creve Coeur, MO please contact the caring staff at Autumn Home Care, LLC today at 636-448-9347. 
Sources
https://www.nia.nih.gov/health/talking-older-patients-about-sensitive-topics
Latest posts by Kimberly Burdo
(see all)