Common Eye Diseases That Causes Blindness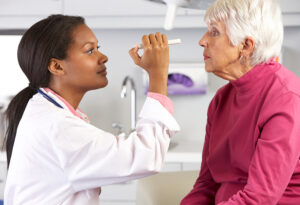 Your elderly parents face many more challenges than you could ever think of. They may stop regularly eating, working out, or doing other basic things they used to do to keep healthy. There are several reasons why this happens as someone ages their metabolism and sense of taste changes, they may be stiffer than they used to be, or they may not be able to keep a routine without proper help. You can't always be around to help your senior parents, and luckily, there are options for you like elder care providers. Many seniors are choosing to age in place rather than move into a home, and elder care providers can offer them a lot of the same things that a nursing home can but allow a senior to have more freedom.
Unfortunately, a senior will still need to attend regular doctor's appointments, workout sessions, and even nutrition counseling to have the help they need. Elder care providers keep a senior on track with reminders and even help get them to where they need to be to stay healthy. It takes time to ensure a senior is staying healthy at home. If you are a family member looking after an older loved one, or even if you have a caregiver, you should understand what diseases affect seniors the most. A few common eye diseases affect the elderly the most and can cause blindness.  
Vision issues often begin gradually and are painless. They are often difficult to notice in aging eyes, even for an older adult. However, the first indicators of visual issues are often changes in behavior. Therefore, if you observe your elderly relative behaving differently, it may be time to get their eyesight and eye health tested by an eye specialist. Therefore, if you see your senior relative acting strangely, it may be time to get their vision and eye health evaluated by an eye professional.
Age-Related Macular Degeneration (AMD) 
You may have never heard of AMD unless you have already had a loved one diagnosed with it. AMD happens when the part of the retina that lets us see straight is damaged. This is something that happens slowly and usually painlessly. That is why it can be so hard to tell if a senior has it at the beginning. AMD is one of the main causes of blindness in people over 65.
Seniors with AMD may have shadowy areas in the center of their vision, or they may not see things that are right in front of them. They may also complain of fuzzy or disoriented vision. Unfortunately, even going to a doctor may not help a senior prevent this. There is no complete cure for AMD, but they may be able to slow the progression.
Cataracts 
Many people experience cataracts and this means they will start experiencing blurry or cloudy vision. Things may look hazy to them more than others. It typically starts slowly and may not even cause huge vision changes until later on. This disease is common for people above 40 year old. If your senior is having a hard time reading the clock or they may state their vision has gone blurry. Early stages of this disease require stronger glasses while later stages will need a quick surgery.  
If you or an aging loved-one is considering Elder Care in St. Peters, MO please contact the caring staff at Autumn Home Care, LLC today at 636-448-9347. 
Latest posts by Kimberly Burdo
(see all)