The Many Benefits of Home Health Care For Seniors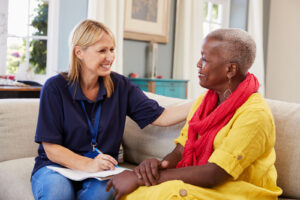 As parents and grandparents age, their children may worry that they need more help. People over 65 sometimes struggle with chores that were formerly easy like cutting grass, showering, unloading groceries, and making home repairs, to name a few.
But seniors today have many options. Old age is not a slow, inevitable pathway to the nursing home. And most people over 65 wish to age in place, meaning they want to maintain their independence by staying in the home in which they currently reside.
Who needs senior care at home?
Seniors with chronic health conditions are likely to need home care. Such home care is both more affordable and frequently more effective than treatment in a hospital or clinic. That is, in part, because a senior's sense of independence and the familiarity and comfort of being at home contribute to a senior's sense of well being. And that well being in turn promotes healing and recovery.
Seniors who need home health care often include those with diagnosed:
Diabetes 
High blood pressure 
Heart disease 
Congestive heart failure 
Broken or fractured bones 
Obstructive lung disease 
Arthritis 
Cerebral disease 
Signs of cerebral disease
Sometimes the need for senior care at home expresses itself in smaller signs of mental fog such as not remembering to turn off the oven, wandering away from home and not being able to get back, not practicing good personal hygiene, difficulty walking, frequent falls, unsafe driving, and failure to make sufficiently nutritious meals.
The above actions may be the result of Alzheimer disease, another dementia, medications, depression, or other causes. Do not attempt to diagnose cerebral disease yourself. Instead, make sure your loved one is seeing his or her primary care physician on a regular basis. A diagnosis begins in your parent's doctor's office where he or she may be referred to a specialist.
What do home health care workers do?
Home health care workers routinely do domestic chores that your elderly relative finds difficult. These chores include cooking, cleaning, bathing, changing clothes, helping to use the toilet, and errands like grocery shopping and unloading. Home health care workers can also monitor vital signs like heart pressure, heart rate, and glucose levels (for diabetes).
Home care bridges gaps
Hiring professional senior home care can help bridge the gap between what an elderly person's relatives can do and what the senior needs. For instance, adult children might find it relatively easy to clean their parent's house on weekends and shop for groceries. But then a health care worker could step in to prepare a daily meal and do light cleaning.
Home care service also allows seniors to remain in their homes and maintain their independence instead of going to a long-term care facility. Though a long-term care facility may be necessary at some point, home care can often delay that event for up to several years.  
In conclusion, home care is a valuable service for many seniors who choose to stay at home. It can take considerable pressure off family members, allowing them to spend their time with older relatives chatting and enjoying their company. And home care often bridges gaps in care that occur as seniors age and become more dependent on help.  
If you or an aging loved-one is considering home care in St. Charles, MO please contact the caring staff at Autumn Home Care, LLC today at 636-448-9347. 
Sources
https://www.aarp.org/caregiving/home-care/info-2019/home-health-aides.html
https://health.usnews.com/best-assisted-living/articles/assisted-living-versus-senior-home-care
Latest posts by Kimberly Burdo
(see all)