4 Things All Senior Men Should Know About Aging In Place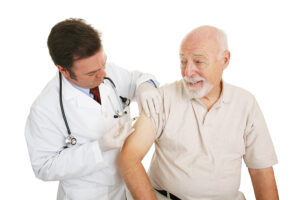 June is Men's Health Awareness month and if your senior father is aging in place there are some things that he, and you, should know. Men often have a hard time talking about their changing needs as they get older, especially if they are aging in place. But these four things should help you and your senior father make changes and have discussions that will help him stay healthy and happy in his home as he gets older:
Quitting Smoking Is Worth It
Some studies show that as much as 17% of senior men smoke. Many men who smoke have been smoking most of their lives. Some don't quit because they think that since they have smoked for so many years it won't do much good to quit now. But that's not the case. Quitting always will have a positive impact on health. Smokers who have smoked for many decades may not be able to stave off diseases associated with smoking like lung cancer but they lessen the severity of the disease in some cases by quitting. The body will start repairing itself in as little as 7 days after someone quits smoking. Senior men should quit smoking.
Regular Medical Checkups Are Necessary
Do you know when was the last time your senior father went to the doctor? It may have been quite some time ago. Men have a tendency to not seek medical care unless they are injured or very sick. But preventative care is essential for men as they age. Regular cancer screenings for prostate cancer, rectal cancer, and other cancers can save lives. Men should also be screened for conditions like diabetes, heart disease, and high cholesterol. Have a talk with your senior loved one about finding a primary care physician and starting to take better care of their health.
It's OK To Outsource Household Maintenance
Many men take pride in keeping up their home and doing the work themselves. But senior men shouldn't be climbing ladders, trimming trees, painting the house, shoveling snow, and doing other chores around the house. It's not taking anything away from them to hire someone to take care of the lawn, shovel the snow, repave the driveway, paint the house, rake the leaves, or do any of the other household chores. And they also consider getting home care to help with chores inside the house. Home care can make those household chores less strenuous and improve the comfort and safety of the home. 
Exercise Is Important 
Eating right and exercising are both crucial for health as seniors get older. But many men never have done any kind of formal exercise. They went to work, came home, and did chores around the house because they were taught that's what men did. Talk to your senior dad about starting an exercise program or finding activities that he might enjoy. Hiking, biking, and swimming are all great activities for senior men. 
If you or an aging loved-one is considering home care in Lake St. Louis, MO please contact the caring staff at Autumn Home Care, LLC today at 636-448-9347.
Latest posts by Kimberly Burdo
(see all)